People who draw success with a brush called passion on a drawing paper called common sense are said to be always happy.
We will be developers who can share happiness with GOPAX users.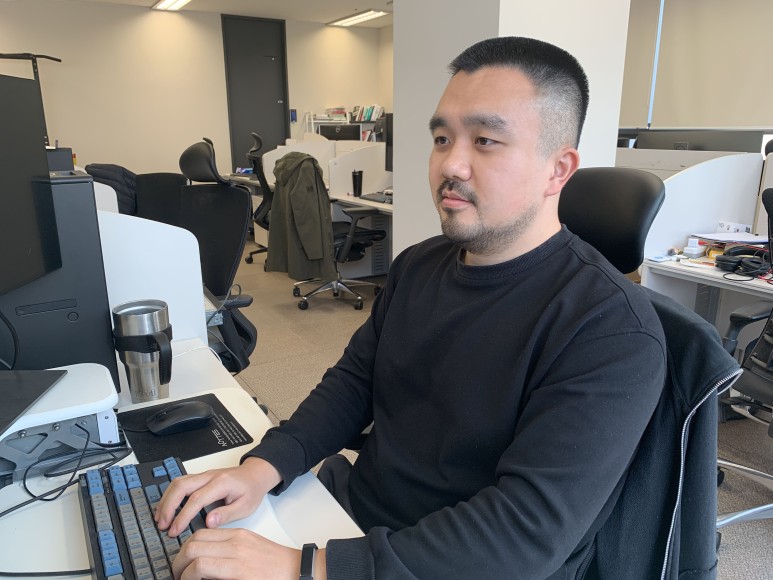 "Protecting customer assets is GOPAX's number one virtue"
GOPAX has introduced various order types to create an exchange that is feasible for professional traders to use.
We introduce Iwan, who is striving to construct services with that focus.
PART1 - Introducing Iwan of the Backend Team!
▶Please introduce yourself.
This is Iwan and I work for the Backend Team at the Streami lab.
I worked as a KOICA volunteer in Indonesia and after that worked for several companies there. I decided to join Streami last year.
▶You have a unique career as a KOICA volunteer. How did it start?
I had lived without an opportunity to experience various and different experiences and when I looked back on my life around 2011, I thought that I had lead a monotonous life so I decided to go after the opportunity to become a KOICA volunteer.
When I decided to become a volunteer, I received a lot of dissuasion from the people around me, but I was convinced that the experience would have a big impact on my life and so I started the challenge. At the end of the day, I can say that having been a KOICA volunteer was a huge turning point in my life and was an experience through which I gained so much.
Also, as an extension of that, I had the opportunity to collaborate with Streami while working for the Korindo Group in Indonesia, and eventually joined Streami. So I think it was a good choice!
▶Was there a decisive factor in your decision to join Streami?
While working for the Korindo Group, I had the opportunity to collaborate with Streami to launch GOPAX in Indonesia and received positive impressions in the process.
While collaborating with Streami, I had the opportunity to have a conversation with the CTO. During the conversation, I could agree with the vision of the company and was drawn to the honest corporate atmosphere of Streami and fianlly decided to join.
▶What work are you in charge of in the Backend Team?
I am in charge of various tasks. Among others, I am developing additional various functions to the order processing engine for professional traders, improving the API server, synchronizing the side blockchain with the exchange, and developing functions which can be used for marketing purposes.
Our Backend Team tends to be considerate of each other so that we can take the initiative in doing the work we want to do and experience various tasks.
▶Is there anything you do to improve your job expertise?
Reading documents in English documents is frequently required in the couse of my job and many documents within the team are prepared in English. So I study English persistently.
Besides that, all of Streami's backend developers tend to have a passion for learning, we so are constantly studying together through weekly study groups.
PART2 - What is a developer to you?
▶What motivated you to become a developer?
Ever since I was in school, I was interested in designing and developing and my desire to learn new things was high. So, I have been studying constantly since then. I thought that this personality of mine was a good match with the job of a developer and this is why I chose the job. Because trends are always changing, especially for development, I think it might be the most compatible job for someone who is full of desire to learn something new like me.
▶What do you think is the most important part of your work?
I think communication is the most important.
It's important to clearly understand what the requirements are, share your progress with others, and keep transparent records of such.
▶What's your most memorable project?
I would say developing the stop order feature.
The stop order is a pretty tricky feature to implement in which one order's execution triggers other orders which in turn trigger other orders. Also, if there is a bug, a disaster-like situation can occur, so we have been continously testing the feature. I struggled with my colleagues for several months to launch the stop order function, making nearly 50 test cases and going through the process of verifying that the feature worked well. In the end, the feature was successfully launched and it seems to have established itself as a feature loved by professional traders.
▶Personally, is there a project you would like to run at GOPAX?
We have successfully launched the stop order feature, an order feature for professional traders, and are currently developing a new order type that needs to be introduced to give customers more options.
Since it is a highly awaited order type, I am concentrating on the development by even reducing my resting time. I am already looking forward to the development completion.
▶Are there any qualities that those who wish to join should have?
It would be nice if the person can state his point of view without restriction, rather than having a vague fear of what others might think and it would be even better if a plan for improvement can be proposed. It would be even more ideal if the person has an understanding of time and space complexity and can explain his idea by quantifying how much complexity they require. Even if without such qualities, anyone with a passion for development or learning is always welcome.
▶What do you think the ideal developer looks like?
I think that a developer is not just 'one who does development activities'. A good developer must test and for this, it would be more ideal if writing test codes is already an instilled nature.
PART3 - If you were to express in one word?
▶ How would you express Streami in one word?
"Democratic"
Just looking at the development organization alone, we tend to communicate very freely. Because we believe that progress comes from diversity, we respect diversity, try to understand different opinions, and make decisions democratically. For this reason, we don't micro-manage and each individual's discretion is guaranteed.
▶A word for GOPAX users please.
GOPAX is a system designed with the primary virtue of keeping your assets safe. Based on this stable system, we are always striving to provide additional functions and make a screen which is more convenient to use. We may not be as fast as we can be because we follow democratic procedures, but we are moving forward diligently. We ask for your continued trust and engagement in the future. Thank you.